Michelin Agricultural – because the land is a series of challenges.
Bush Tyres has quality Michelin Agricultural tyres to suit your needs.
Michelin Agricultural, because the land is a series of challenges.
Because farmers face constant challenges, the Michelin Agricultural product line listens to you, innovates with you and aims to offer you products and services that increase your levels of profitability, reliability and environmental protection.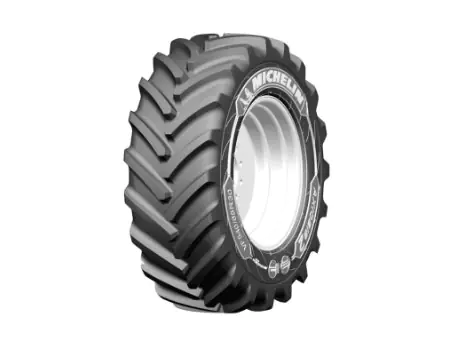 Axiobib2
Designed for high traction capacity with heavy loads. Contains Michelin Ultraflex technology that allows very low field pressure (0.6 bar) but high load capacity, minimising ground compaction and improving productivity. Ideal for tractors from 160 to 550hp and compatible with central tyre inflation systems.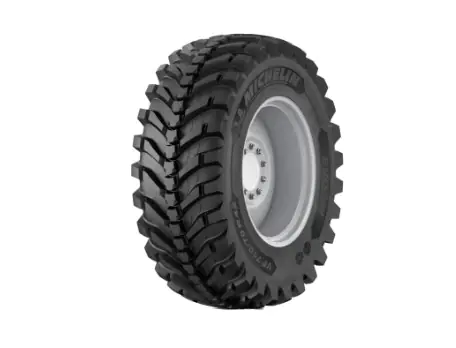 Evobib
The 2 in 1 tyre designed to provide best performance on the road and in the field, especially for tractors equipped with Central Inflation Systems. The Adaptive Design Technology ensures maximum crop yield and soil protection in the field with comfort and stability at high speeds on the road due to its innovative tread pattern. Designed for tractors > 200hp.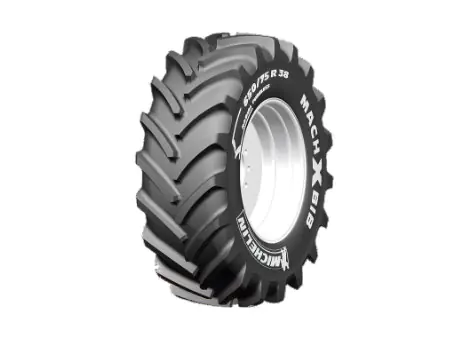 MachXbib
A tyre that offers excellent value and versatility for high powered tractors >160hp. The large lugs increase service life and offer high damage resistance whilst its low-rolling resistance rubber mix reduces fuel consumption. The tyre is capable of speeds up to 65km/h (depending on tyre size) and is suited to transporting heavy loads.
Yieldbib
A low pressure tyre for high powered tractors (200-500hp) in row crop style farming e.g. maize potatoes etc. Contains Michelin Ultraflex Technology that offers sidewall flexibility and a wider footprint to reduce soil compaction and support increased yields. The innovative anti stubble strip strengthens the central zone of the tyre to minimise stubble damage.
Agribib RC
Specifically designed for row crop work with excellent traction. The rounded outer ends of the lugs of the tyre assist with crop protection whilst the deep tread pattern provides excellent traction and stability.
SprayBib
A high load capacity tyre for sprayers with a VF Casing (Very High Flexion). Contains Michelin Ultraflex Technology with a reinforced bead area for greater load capacity. The wide footprint and reinforced tread lugs create less ruts, provide better grip and are more damage resistant to stubble damage. Provides stability and comfort up to speeds of 65km/h.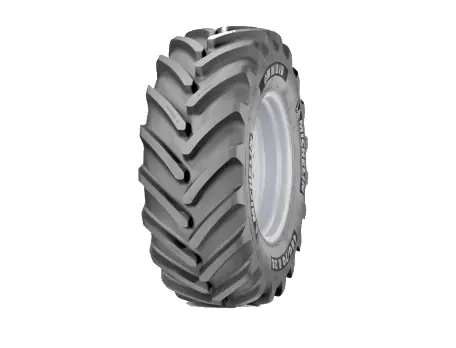 Omnibib
A tyre offering excellent versatility and service life for tractors between 70–180hp. It has been specially designed to withstand the stresses of work with front loaders and the wide and flat tread offers excellent stability and manoeuvrability for work in animal stalls. Its wide lugs and flexible, robust casing supports damage resistance and longevity of service life.
Multibib
Built to support productivity, versatility and comfort for tractors between 80-220hp. The flat wide crown optimises contact pressure and maximum traction capacity, whilst reducing wheel slip. Its flexible casing provides excellent road handling and increased road comfort for the driver as well as great performance in the field.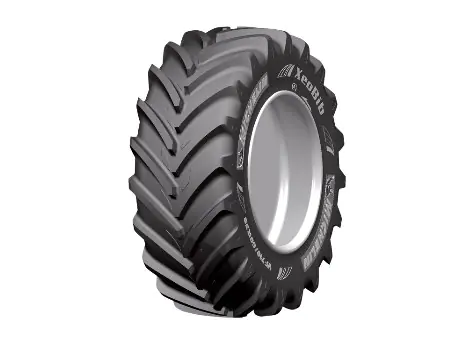 XeoBib
Designed to operate on all surfaces at less than 1 bar for better soil and surface protection. Contains Michelin Ultraflex Technology with a VF Casing (Very High Flexion) that can operate as low as 0.8 bar at 50km/h and provides shock resistance and comfort for the driver. Ideal for tractors ranging from 80-220hp.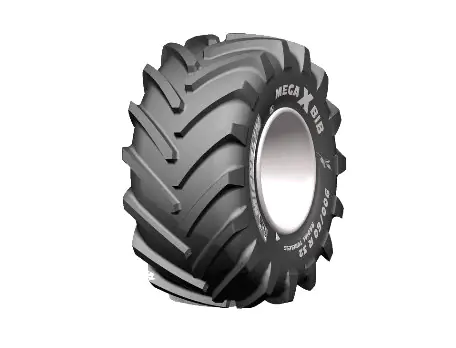 MegaXbib
Provides excellent value for harvesters and heavy equipment. The innovative construction of the tyre supports its ability to withstand heavy loads and provides long lasting casing endurance.
Cerexbib2
A tyre for high load capacity at low pressure for large harvesting machinery designed and developed in conjunction with the key harvesting machinery manufacturers. Contains Michelin Ultraflex Technology that minimises soil compaction due to its ability to carry high loads at low pressure and its wider footprint. Can be used on front or rear positions on harvesting machinery. Compatible with Central Tyre Inflation Systems.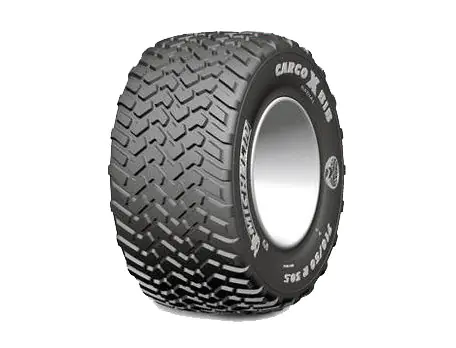 CargoXbib HD
A trailer tyre designed to give high levels of performance on the road and in the field. Its flat tread profile and high strength carcass allow excellent resistance to wear and damage both on the road and in the field, minimising downtime. In the field the tyre can be run at very low pressures to help reduce rutting and increasing productivity. Can be used with Remote Central Inflation Systems.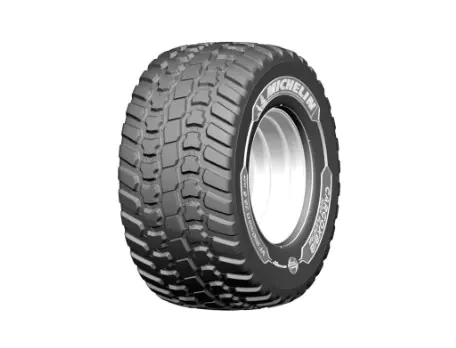 CargoXbib High Flotation
A low-pressure trailer tyre for loads that leaves less impact on the soil but also offers excellent road performance. Contains Michelin Ultraflex Casing Technology that allows low pressure (from 0.8 bar) in the field maximising soil protection whilst offering rounded shoulders to minimise road wear, a self-cleaning tread pattern and a central rib to offer road stability. Compatible with Central Tyre Inflation Systems.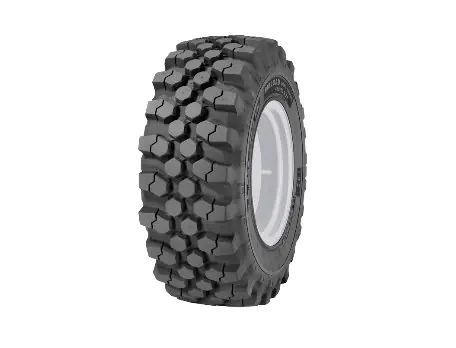 Bibload Hard Surface
A tractor tyre designed for better damage resistance and fewer vibrations, especially in hard surface conditions. Bibload has been developed with a greater contact patch than a standard agricultural tyre. The innovate multi-directional diamond tread pattern and reinforced sidewall ensure a much smoother, more stable ride as well as a reduced puncture risk and a longer life. It also allows higher speed and better handling on the road.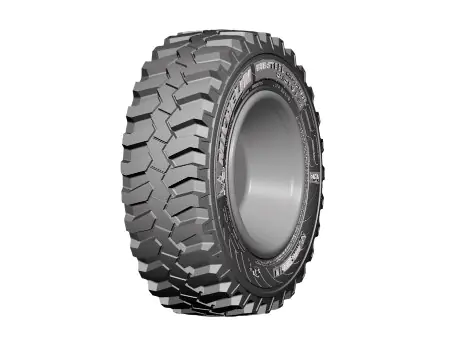 Bibsteel (All Terrain & Hard Surface)
The Bibsteel Hard Surface has been design for skid steer loaders on hard and abrasive ground and is the market leader in terms of wear life and resistance to damage due to its thick sidewalls and strong casing construction. The Bibsteel All Terrain is designed for skidsteer loaders working predominantly on soft ground and offers outstanding longevity and traction due to its very open tread and self-cleaning capability. Its reinforced sidewalls offer resistance to abrasion and impacts.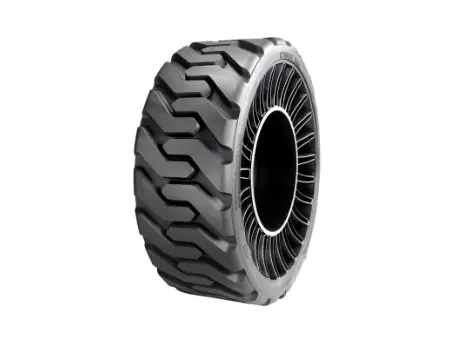 X Tweel (All Terrain & Hard Surface)
The revolutionary airless Tweel, designed for skid steer loaders requires no maintenance and eliminates downtime. It offers the benefit of both outstanding stability and driver comfort which helps to reduce driver fatigue whilst improving productivity. The deep, open tread design on the All Terrain is designed for excellent traction and cleaning. The deep layer of undertread also means that the core can be retreated multiple times, reducing costly tyre replacements.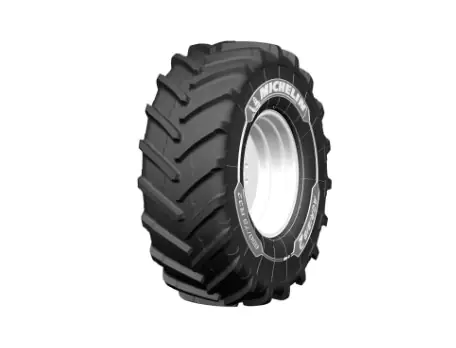 Agribib
A tyre designed for high levels of performance throughout its life on tractors between 60-170hp (or up to 500hp if twinned). The deep tread lugs and optimised tread pattern support better tractive force, tyre longevity and aids self-cleaning. For use mainly in the field with minimal road use.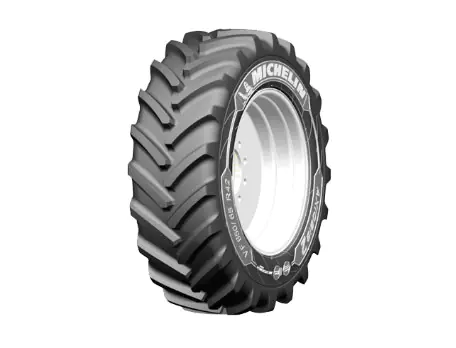 Axiobib
Designed for improved traction and soil protection for very high horsepower tractors (>250hp), even at operating field pressures as low as 0.8 bar when loads allow. Contains Michelin Ultraflex Technology that delivers high soil protection, reduced rutting and improved driver comfort through its revolutionary casing technology.
History of Michelin Agricultural tyres
"Michelin is the brand of innovative agricultural tyre developments driven by leading innovations such as the radial tyre and Ultraflex technology. The associated performances deliver true functional benefits meeting farmers' expectations and improve productivity. Because the farmers care for their soils, resources, farms and families, MICHELIN promotes technology to preserve an admirable tradition.
Michelin Agricultural and Compact Line take full account of farmers' real experiences, listen and work with them through constant market changes to provide real answers to the challenges they face every day."