Kumho PS71 Tyres for Extremely Rare Luxury Citroën C6
Article written by Bush Tyres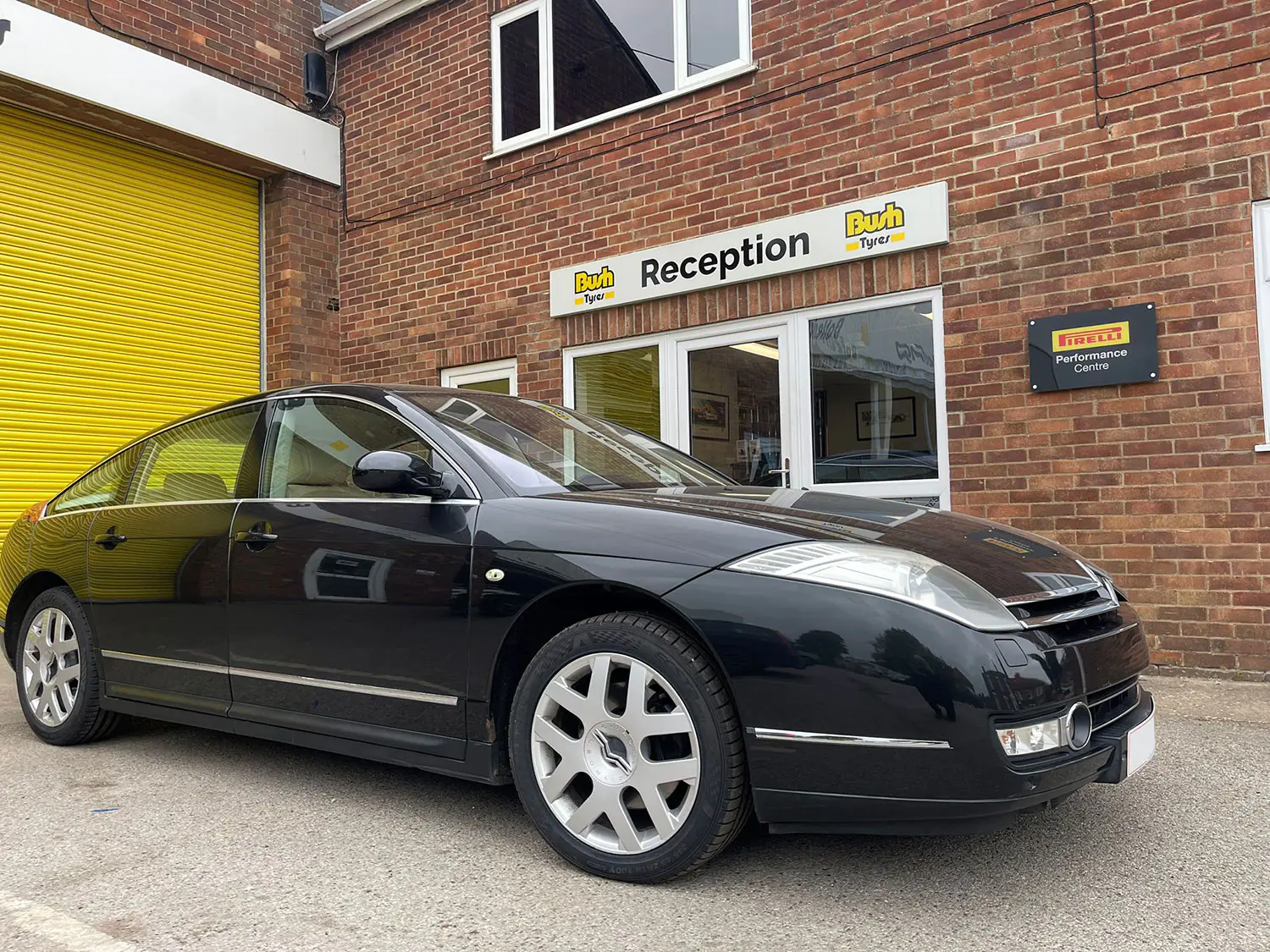 This extremely Rare Citroën C6 called into our Horncastle branch recently, the team fitted a full set of Kumho PS71 tyres for the customer. Read more about this rare executive saloon and the Kumho tyres below.
Citroën C6 V6 turbo diesel
The car of choice for French Presidents, the C6 never sold in the numbers Citroen hoped. This ultra luxurious, high specification car with super quality interior and world class ride and suspension was never quite fully appreciated here in the UK. Unlike the more popular German executive cars at the time from Audi, BMW and Mercedes.
The Citroen just never quite had enough badge appeal for the UK market.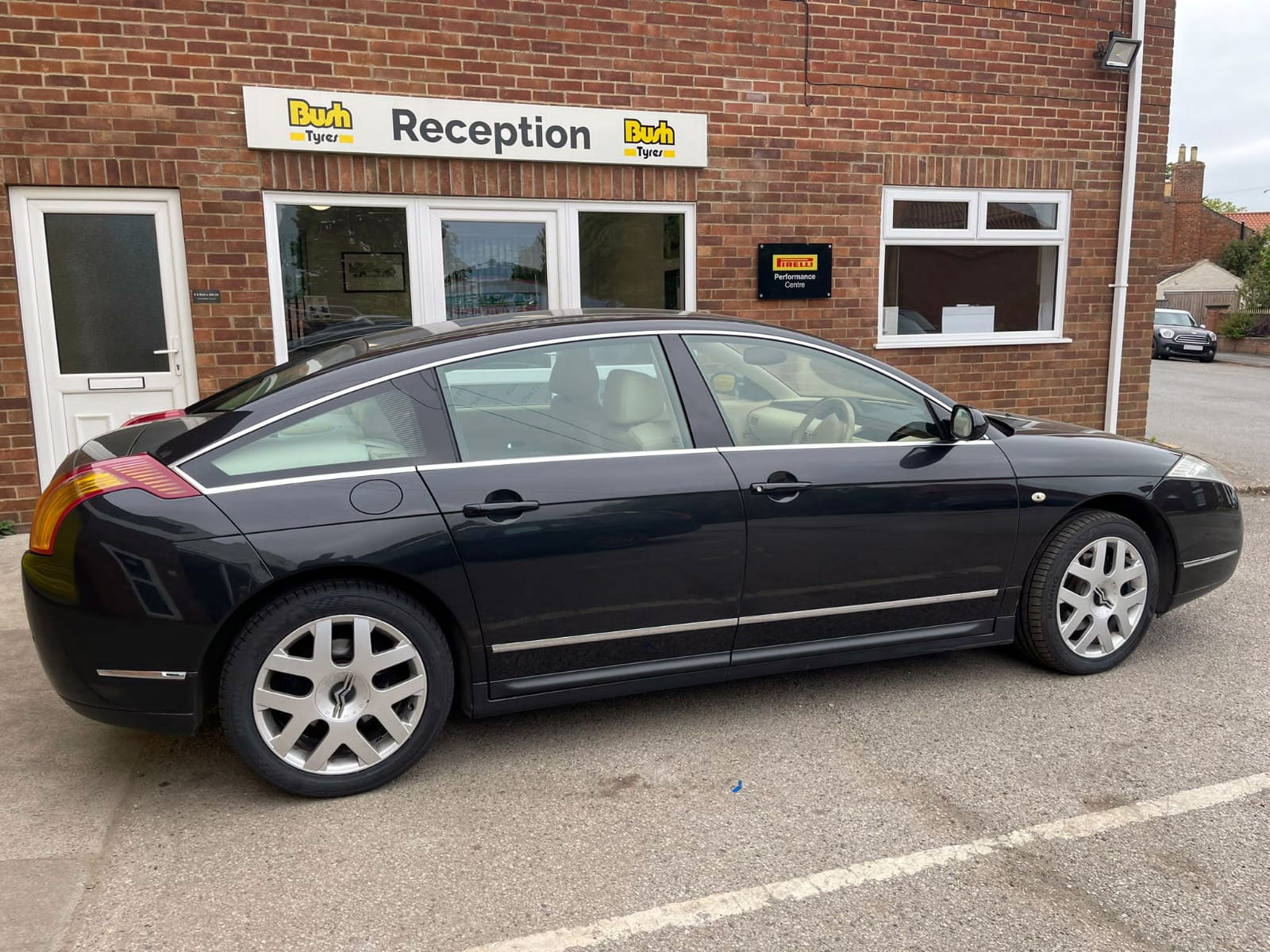 As a result, the few lucky people who now own these cars have all the benefits of a truly exclusive luxury saloon with loads of light and interior space and comfort at a fraction of the price of the competition. They have become somewhat of a bargain.
The 2.7 litre V6 turbo diesel has great performance and surprising economy for such a large car. These can be purchased on the used market these days at extremely low prices, well maintained low owner examples like this are now beginning to rise.
This still presents a fantastic opportunity to buy a car with 'presidential' levels of comfort that no one still really knows about. The once "quirky" design has now aged well, the cars will be surely developing into a true collectable modern classic.
Kumho PS71 Tyres
Seen here in 245/45ZR18 100Y specification the PS71 is the summer high performance tyre from the Korean manufacturer Kumho Tyre.
It's an Ultra High Performance (UHP) Tyre with an all-new High Dispersible Micro Silica (HDMS) compound.
This make the Kumho PS71 perform as well as some more expensive tyres with outstanding handling and braking performance on wet and dry roads, precise and stable handling even at high speeds, and improved mileage performance.
It is designed for use on medium, luxury and sports cars. The PS71 pattern is also available in run flat (XRP) options in selected sizes.
Kumho have been producing tyres since 1960, and now produce more than 68 million tyres every year. Their tyres can be found on cars, vans, trucks, AutoGP racing cars, jet fighters and civil aircraft.
Kumho is original equipment (OE) fitment to 3 of the world's top 5 car manufacturers including Mercedes-Benz, BMW, Renault, Volkswagen, Hyundai, Kia, and SsangYong. You can buy Kumho tyres in over 180 countries in the world – everywhere from Australia to Zimbabwe and even Bush Tyres.
If you are interested in new tyres for your vehicle, Kumho tyres have an incredibly wide range covering most makes and models, and seasons. They produce tyres in UHP, Touring, General Use, Winter, and All-Season.
Even better, if you buy Kumho tyres from us between the 13th November and 15th December 2023 you can enter into a prize draw to win one of 10 VIP match day packages for the game at Tottenham Hotspur Stadium on the 6th April 2024!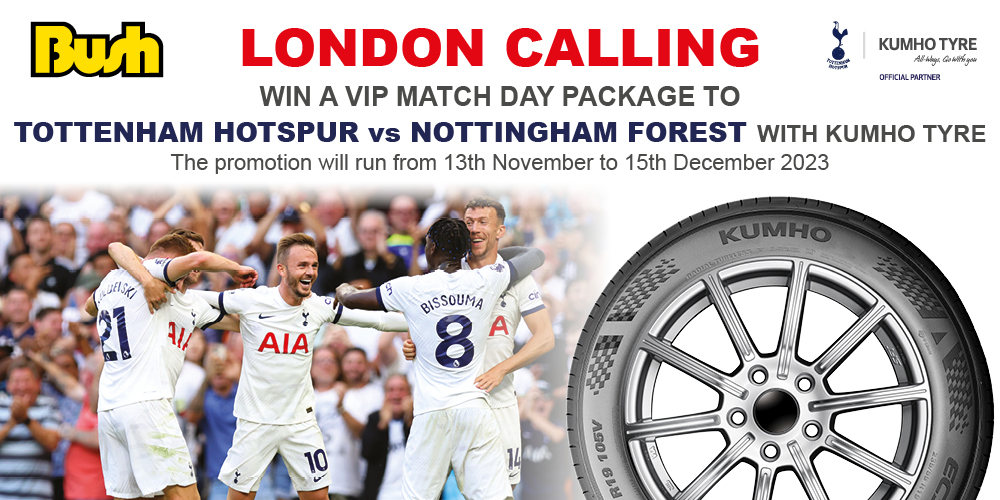 Claim now
Call into your local Bush tyres branch for the latest information or make an appointment for a FREE tyre check and a member of the team will be able to recommend the best options for your vehicle.
Find a branch